By Andy Cullen, 10/2023.
There are times when the problems we're facing as a city feel unique and intractable. Housing often feels like one of those areas. Rents in Denver have risen nearly 25% since 2020, and the population of unhoused on our streets grew by 32% year-over-year, based on a count the Metro Denver Homeless Initiative conducted. And, while Denver remains an attractive destination for relocating or starting a business, downtown continues to struggle to regain its vibrancy post-pandemic. (Stick with me, I promise this story gets more hopeful.)
In these situations, it's easy to feel helpless or look to someone else to solve our problems. But one of the most valuable things our Denver Metro Chamber Leadership Foundation does every year with their annual Leadership Exchange (LEX) trip is connect 150 leaders in the business community here in Denver with leaders in other communities across the U.S. and beyond who are facing similar issues. The goal of the LEX trips is simple, and the results are powerful: we learn, explore, and bring back real opportunities and ideas for improving Colorado. These trips are a great reminder that we're not alone in the challenges we face and there are a host of creative, workable solutions out there if we're willing to step up and be part of the change we want to see.
This year, our destination was Minneapolis/St. Paul, where we delved into the twin cities' challenges and triumphs in tackling issues like housing availability, homelessness, economic development and more. Here are some of our key takeaways:
A Grassroots Approach to Housing for All: Empowering Communities for Success
To successfully address issues surrounding homelessness in both the short- and long-term requires a connected effort from public-private partnerships: what many might deem a more grassroots approach versus a top-down approach. Communities and their stakeholders must be empowered to develop and implement solutions that are tailored to their specific needs.
Minneapolis has been using whole camp relocation as a strategy to address homelessness by moving people from encampments to temporary shelters or other housing options and providing people with immediate access to housing and services. On our trip, we had the opportunity to learn about Avivo Village, an indoor community consisting of 100 tiny homes in the North Loop neighborhood. It is a low-barrier shelter – meaning that there are no requirements for entry, such as sobriety or mental health stability – that provides housing and wraparound services to individuals experiencing homelessness. Since Avivo Village opened in 2020, over 400 individuals have been served and almost 150 have exited into permanent housing.
The Avivo Village concept was not created in a vacuum, it was a holistic public-private and community effort, from housed and unhoused individuals, community advocates, elected officials, social service professionals and philanthropic leaders. Avivo Village – both in mission and practice – has been well-received by the community overall. In an effort to be a good neighbor, the shelter established a community advisory board, which includes representatives from the surrounding community. These creative and real, practical solutions are most successful when they are backed by the commitment and involvement of everyone in and around the community.
Mayor Mike Johnston is taking a similar approach to addressing homelessness here in Denver, with a focus on public-private partnerships and community-tailored solutions through efforts to leverage existing housing resources, adapt hotels and build and scale micro-communities.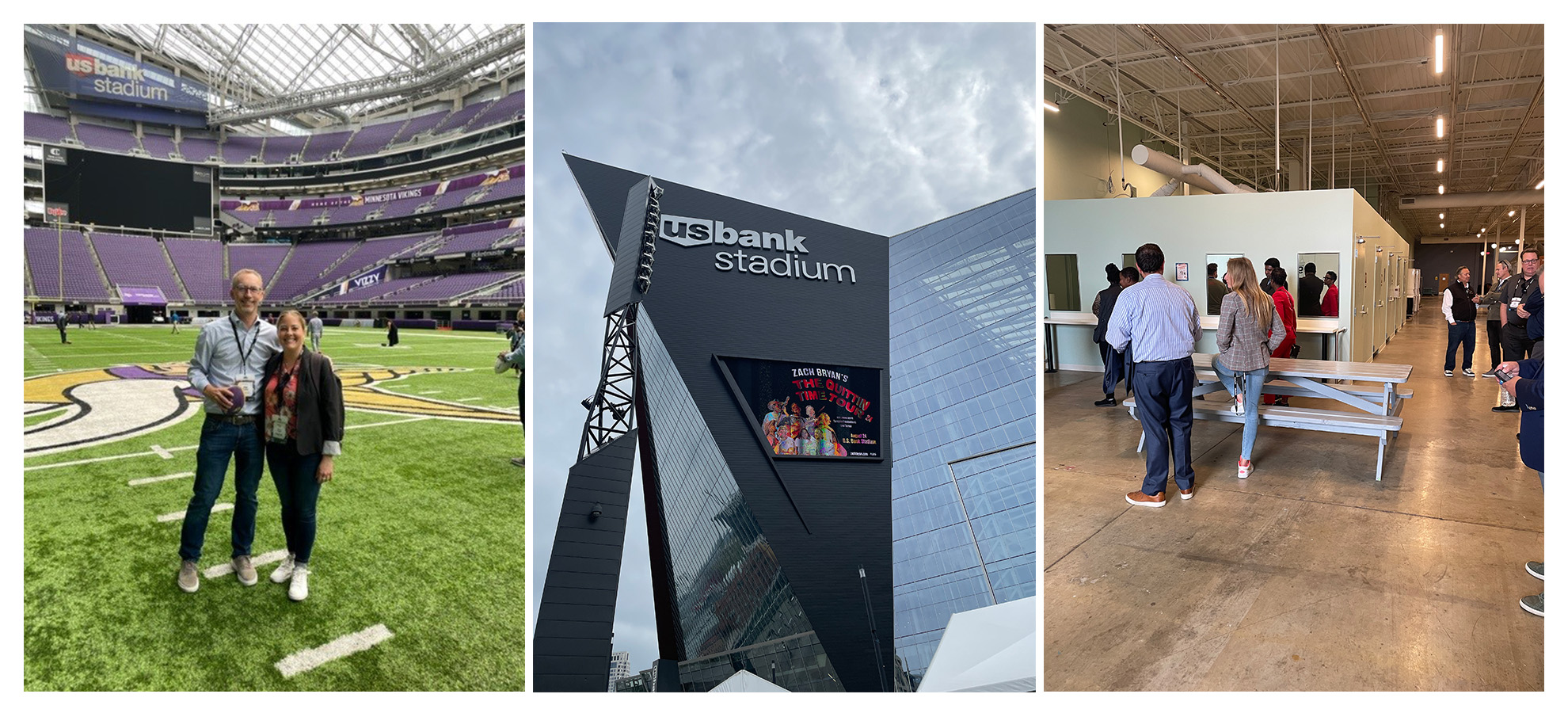 (L to R) Andy Cullen and Amy Aldridge at US Bank Stadium; US Bank Stadium; LEX Attendees Tour Avivo Village
Pro-Business Policies and Legislation Drive Innovation and Urban Vitality
Another important takeaway from the trip was that, unsurprisingly, policies and legislation that support a strong pro-business climate are essential for creating innovative environments and thriving city centers.
Having a tax structure that is attractive to businesses, as well as regulations that are fair and predictable are key to generating opportunities for homegrown companies. It is also important to invest in infrastructure and amenities that support businesses, such as transportation, education, and recreation.
We were particularly impressed by the collaboration between the neighboring cities' leadership, with Mayors that could have been competitive instead, opting to share ideas and collaborate for the betterment of the region. Minneapolis and St. Paul have both worked towards creating thriving city centers and investing heavily in their downtown areas, including constructing a new arena and a new park.
Minneapolis is also home to innovation hubs, like the Minneapolis Innovation Center, a facility where startups, entrepreneurs, and established companies can participate in programs and initiatives designed to support innovation and entrepreneurship, including the Startup Accelerator Program. Minneapolis' pro-business climate has kept companies around that are innovation powerhouses like 3M (which not only produces over 1,000 products locally but allows employees to use a portion of their time to develop passion projects, resulting in innovations like the Post-it® Note!).
Minneapolis' new US Bank Stadium has generated billions of dollars in economic activity for the city, including through construction jobs, tourism, and hospitality spending. With the Broncos exploring the possibility of building a new stadium, there were some great insights into the challenges and opportunities for Denver to reap the same types of economic benefits, including job creation, increased tax revenue, improved infrastructure, and attraction of new businesses and investment.
Denver Can Be a Leader and Role Model for Urban Progress
The insights and tools our team and our fellow LEX participants came away with will hopefully catalyze changes that will significantly impact our city's future. Denver has the opportunity to become a leader alongside other forward-thinking cities in addressing pressing urban issues. Our team here at Tributary was grateful for the opportunity to participate in the trip, and we look forward to putting what we learned to use as we continue to engage in the betterment of our community.