Denver's commercial real estate market entered Q2 2020 in a strong position, even as COVID-19 forced the majority of the state to shut down starting in mid-March. While Denver's office landscape is starting to shift as companies re-evaluate their space needs, there is steady activity across the Denver metro area.
Here are some highlights of Denver's commercial real estate activity in Q2 2020.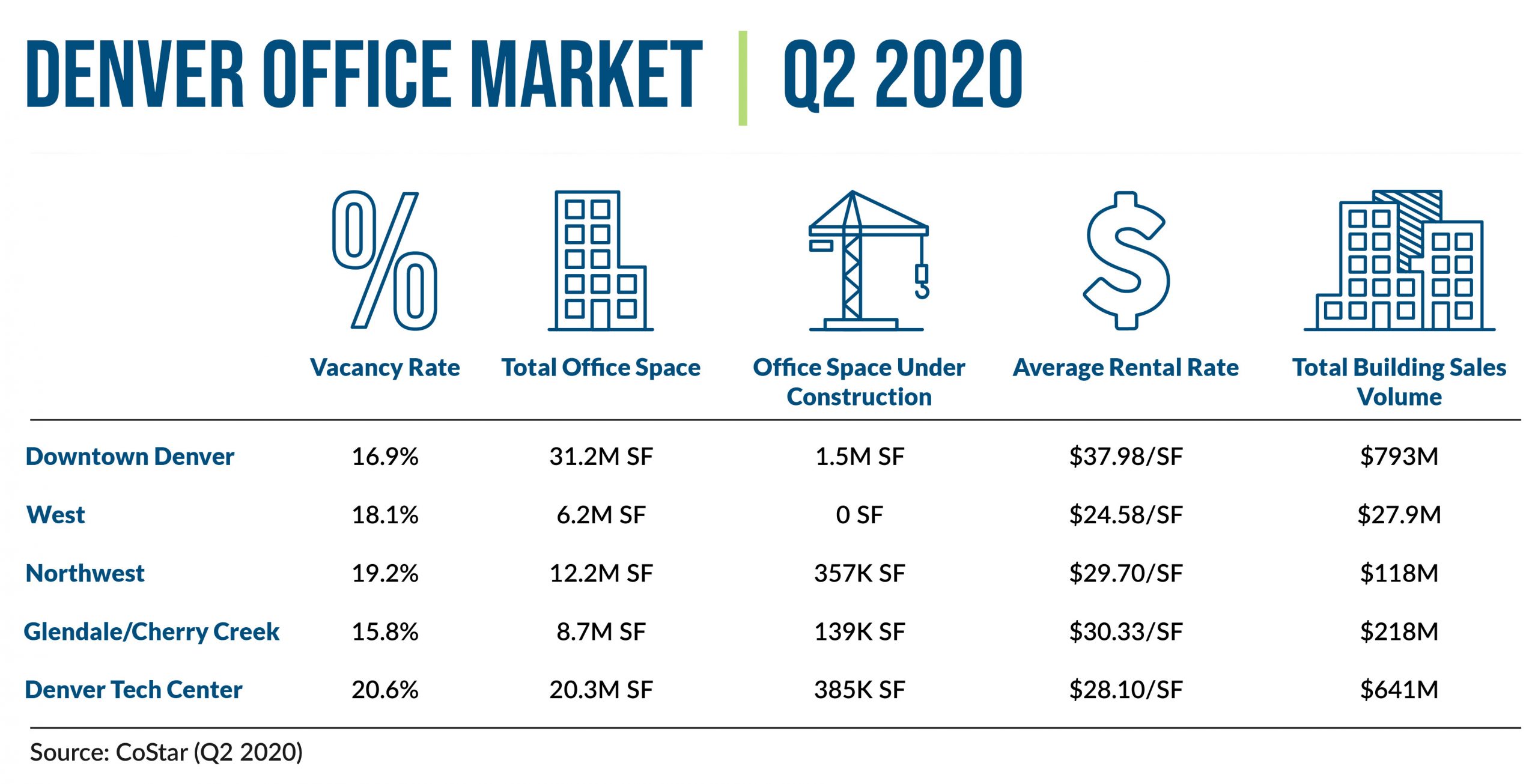 Downtown Denver
The market continues to shift as 58 new subleases have hit the downtown market since April 1.
Facebook announced plans to double the size of its office at 1900 16th St.
Occidental Petroleum Corp. is looking to sublease six floors totaling 130,068 square feet at 1099 18th St.
Dispatch Health raised $136M in Series C funding.
A parking lot at 1300 Cherokee St. in the Golden Triangle sold for $6.7 million.
 West Denver
Bancroft acquired Union Terrace Building for $11,327,200 or $132.62/sf. The building was 86% leased at the time of the sale.
Tap Rock Resources leased 23,000 sf at 523 Park Point Dr. in Genesee.
Golden View Classical Academy acquired a 54,396-square-foot building at 601 Corporate Circle for $7,783,400 or $143.09/sf.
Next Level Sports Performance acquired a 10,875-square-foot building at 4670 Table Mountain Dr. for $2,325,000 or $213.79/sf.
Northwest Denver
Rowdy Mermaid, a kombucha startup in Boulder, raised $3.5M.
Crocs opened its new headquarters at ATRIA in Broomfield.
Office Evolution, a Louisville-based coworking franchisor, opened its 15thColorado location in Northglenn.
Colorado Blvd/Glendale/Cherry Creek
The Citadel building in Cherry Creek sold for $33M.
Former Inn at Cherry Creek announced plans to reopen next year as The Clayton.
BMC Investments broke ground on a 6-story building in Cherry Creek, anchored by Equinox fitness club.
 Denver Tech Center
Vectra Bank submitted plans to build a nine-story HQ within Belleview Station.
Boom Supersonic, a startup looking to build commercial supersonic jets, raised $3 million.
The landlord of the six-story Tuscany Plaza in Greenwood Village sued Red Robin for unpaid rent.