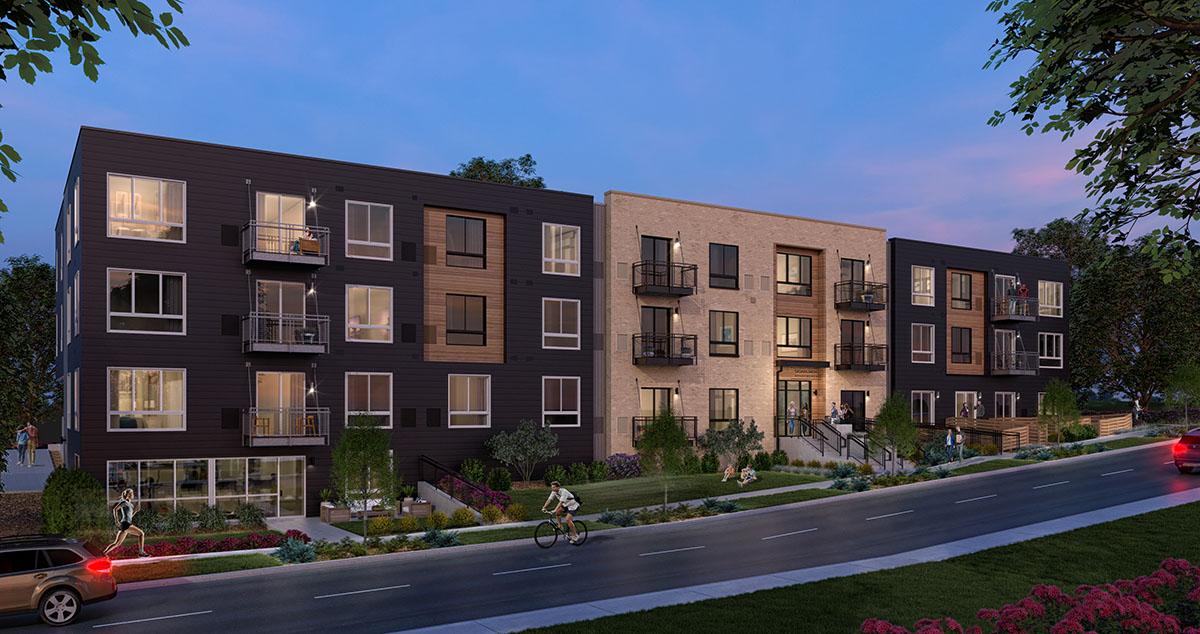 One important benefit of working with Tributary Capital is our agility and ability to quickly problem-solve, even when presented with unique challenges, of which there were many in 2020. We have the ability to comprehensively tackle the entire capital stack, with a holistic approach to benefit our clients and partners.
We recently had with the opportunity to work with Highland Development Co. on Signalmen Apartments, a 52-unit multifamily development located in Denver's West Colfax neighborhood, closing a financing deal that facilitated the project's construction in this in-demand area.
Highland had previously secured financing for the project, consisting of a construction loan and private equity, but when COVID-19 drove up construction costs and slowed down timelines, the company found itself in need of an additional $2.4 million to bridge the gap between their existing financing and the new cost of the project.
Serving as both debt advisory and as a preferred equity partner, Tributary was able to secure a new $8 million construction loan through First Western Trust with a more favorable loan-to-cost ratio of 75%, compared to the original loan's 65%.
This reduced the need for additional equity to $1.3 million, which Tributary was able to provide directly as a preferred equity partner. This opportunity increased returns for the sponsors and for their common equity partners.
This project broke ground in March 2021. Additional project partners include local architect Studio 646 Architecture and local general contractor DIRC Homes.
"Tributary went above and beyond to not only understand the nuances of our project but to also understand us as a company. Relationships are important to us, and from day one, we knew Tributary was going to be a trusted partner to source debt and provide equity for this project. Tributary will remain on the top of our list for future projects."
"You won't find another firm like Tributary. They understand what it means to build lasting relationships while sourcing the best financing options for projects in this market. Their expertise and market knowledge are backed by an impressive network of traditional and non-traditional lending sources. They were able to get us a better LTV ratio from a trusted bank and cover the additional equity needed to get this project off the ground."