Unparalleled Market Knowledge
At Tributary, we offer a highly personalized approach to brokerage services to meet your individual business needs and goals. We know how important your relationship with your broker is, and we have handpicked the best – experienced professionals who know the Denver metro area inside and out. Our market knowledge and the expansive network of relationships we've built allow us to provide you with access to a greater number and caliber of spaces. Throughout the brokerage process and well beyond, we maintain strong relationships with our clients based on trust, respect and a complete understanding of business goals.
You've worked hard to get your business to where it is today. We're here to help you get to where you want to go next.
Brokerage Services
Office

Industrial

Retail

Investment

Land
Why use Tributary
One of the most frequently asked questions by potential clients is why they should use a broker like Tributary to secure an office lease. As a business owner, you may assume that you can reduce the time, energy and costs it takes to find a commercial space by navigating the process on your own. In reality, a talented broker can make the process easier for you. Here's how:
Brokerage Listings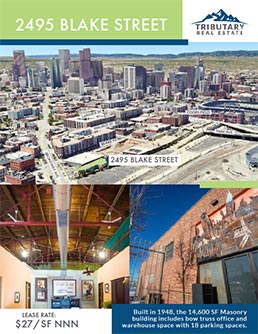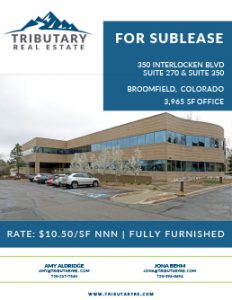 350 Interlocken Blvd.